Come and check us out!!! We offer Adult & Children's Classes.


















Whether your goals are to become a professional fighter or simply to lose weight and get in great shape for summer, Tyson Sports can take you there. We welcome you to experience our friendly customer service, world class personal trainers, and motivating environment for yourself.

We offer:
1. Burn 700 Calories Per Hour
2. Increased Lean Muscle Tone
3. Tremendous Stress Release
4. Self Defense
5. Build Self-Confidence
6. Increased Overall Health and Fitness Level

Lace up your gloves and prepare to experience the same training many boxing pros do in preparation for the big fight.

Learn to master the speed bag, the one-two punch, and a number of different combinations while increasing your agility and stamina at the same time!

Be prepared to 'go the distance' as you encounter everything from heavy bag work and jumping rope to pounding the focus mitts and footwork.

You must have patience and a strong desire to learn the art of boxing. There is so much more to boxing than just throwing your hands towards a bag or opponent. It is very important that you have an open mind and understand that it takes time to learn the proper techniques involved in boxing. You will also condition your whole body so you will have the proper physical conditioning that is required for boxing. We want people who are serious about learning to box but want to have fun while learning the sport. You will be brought into the sport at your own fitness level and slowly increase your stamina and fitness level.






Our fun approach to fitness encourages the kids away from the computer, video games & tv. Tyson Sports offers special youth classes, here they'll learn all the great moves - with responsibility - get fit and have fun with their friends.

Beginners will learn basic boxing skills, including footwork and punching combinations. We provide a fun and safe environment for your children, so that they learn discipline and challenging techniques.

All of our activities foster better motor coordination, while helping you maximize your stamina and your strength.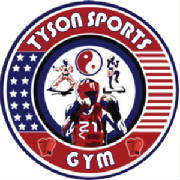 Tyson Sports Inc. myfitness101@yahoo.com 407-240-1444